New England with its white sand beaches, rocky coastline, boating, fishing, sailing, hiking and unfiltered nature is always a good choice. Best of all, wherever you live, there are plentiful private aviation airports making the region easy to access.
This week SmartFlyer travel advisor Barrett Hollo offers her take on five local yet luxury experiences. We've added on profiles of the top suites at each, including private bars, extensive private decks, working fireplaces and much more.
1. Ocean House, Watch Hill, Rhode Island
With sweeping ocean views and a timeless elegance that evokes the ambiance of idyllic summers, the Ocean House in Rhode Island makes for a dreamy start your New England road trip getaway. This boutique, luxury hotel with resort-like amenities is situated right on the beach and offers the highest level of service throughout the property and its 49 newly remolded rooms and 18 suites. These spacious accommodations are each richly appointed to reflect the feel of a sprawling seaside estate, offering an unrivaled residential experience.
In the summertime, make sure you arrive early on Fridays so as not to miss the good, old-fashioned New England lobster boil on the beach, complete with a live band. We also love starting the evening with a glass of Veuve at the property's Secret Garden champagne bar endorsed by Town & Country, Perks & Corks as well as Malted Barley. Other spots not to miss for a bite include Olympia Tea Room – recognized by Vanity Fair as being "famous not fancy" – as well as Ellas and Cooked Goose.
Penthouse Suite
The three-bedroom Penthouse Suite includes 4,000 sq. ft. of interior space with three full baths and two halves, and can sleep up to seven with a sofa bed. However, the clincher is its 2,000 sq. ft. private roof deck for sunning, cocktails and al fresco dining.
The suite comes with complimentary bar, including top-shelf spirits and mixers, a dedicated Signature Suite VIP Manager, De'Longhi Eletta Fully-Automatic Espresso and Cappuccino Machine, and cccess to the members-only Club Room Restaurant. That said, you may not want to leave.
2. Vanderbilt, Auberge Resorts, Newport, Rhode Island
Originally built by Alfred Gwynne Vanderbilt, a scion of the wealthy Vanderbilt family, this property dates back to 1909 as a vintage Newport mansion that has been restored to its former glory. In fact, it's one of the few private homes of the era to open its doors to welcome guests. Located right on the waterfront, the Vanderbilt is easily one of Newport's best-kept secrets. Plus, with only 33 rooms and luxury suites, it is ideal for social distancing.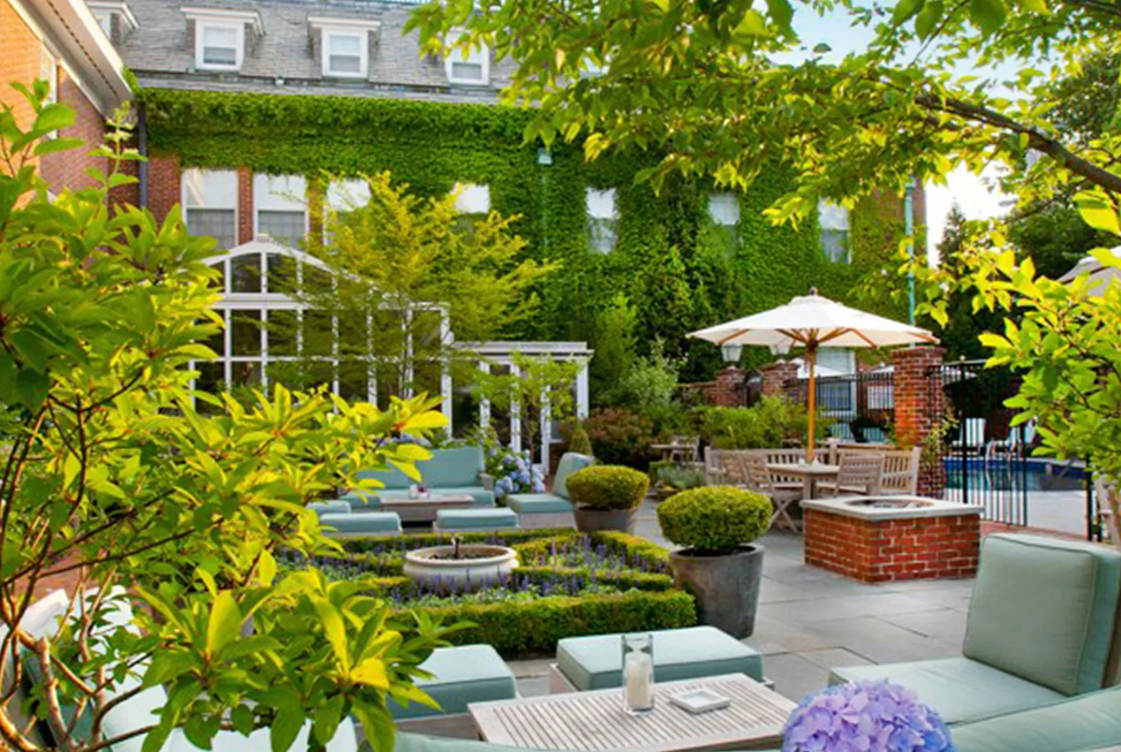 Should you want to get your legs moving, Vanderbilt is ideally situated to get out and explore – the 3.5-mile walk along the Newport Cliffs allows for the opportunity to see the town's famous mansions. For some shopping, we recommend checking out Shore Soap Company and Thames Glass. And once you've worked up an appetite, a bite at The Mooring is hit the spot. Or, there's hotel's signature restaurant, The Vanderbilt Grill, a sumptuous restaurant where the best local ingredients are on offer in imaginative menus which change throughout the year. For cocktails, check out Fluke and finish up at Dockside for some nightlife.
Vanderbilt Suite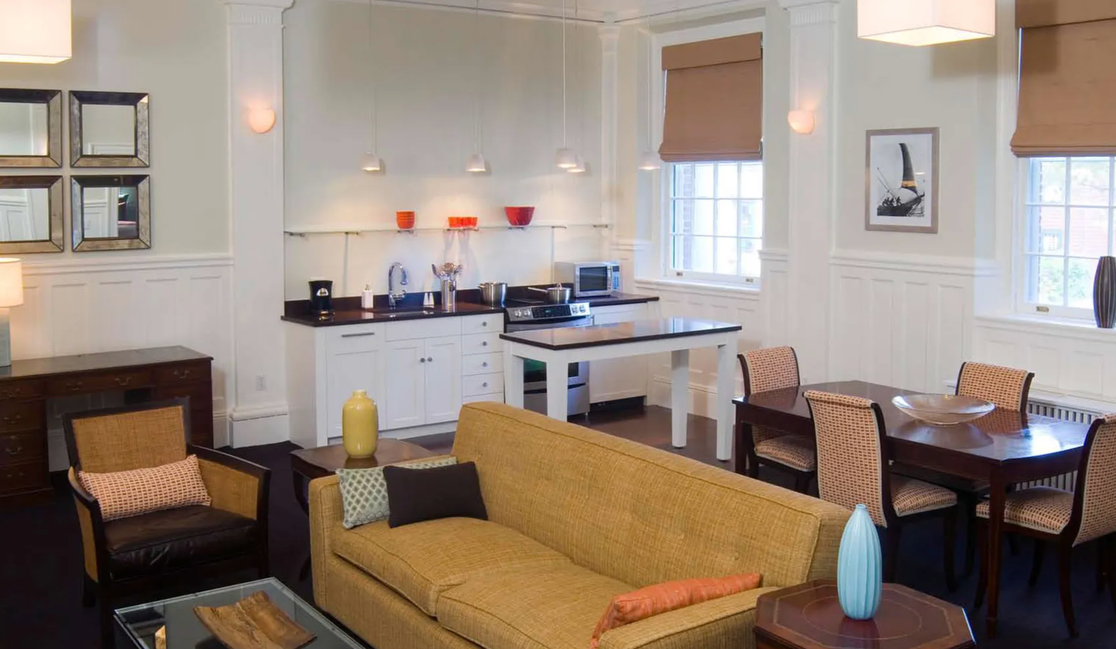 The Vanderbilt Suite is the hotel's most exclusive accommodation and channels the feel of a private apartment, with a dining room and sitting area. It can be configured as a one-bedroom or two-bedroom luxury accommodation, measuring either 940 or 2,000 sq. ft. The Master bath has shower and separate tub.
3. Chatham Bars Inn, Chatham, Massachusetts
Cape Cod has long been one of New England's most honored and historic getaways, encompassing 17th-century towns and the spectacular Cape Cod National Seashore. Chatham Bars Inn is our favorite property in the region as it occupies 25 acres of beautifully landscaped grounds and sandy ocean beaches, giving you the ultimate peace of mind. Decades back, guests splashed in the surf, played golf in the tangy sea air, took afternoon tea on the wide veranda overlooking panoramic ocean vistas, and dined on the best New England cuisine, featuring fresh-from-the ocean seafood. Today, you can enjoy the resort lifestyle as so many did, so long ago, at Chatham Bars Inn, lovingly restored to its original grandeur, yet completely updated with the latest amenities.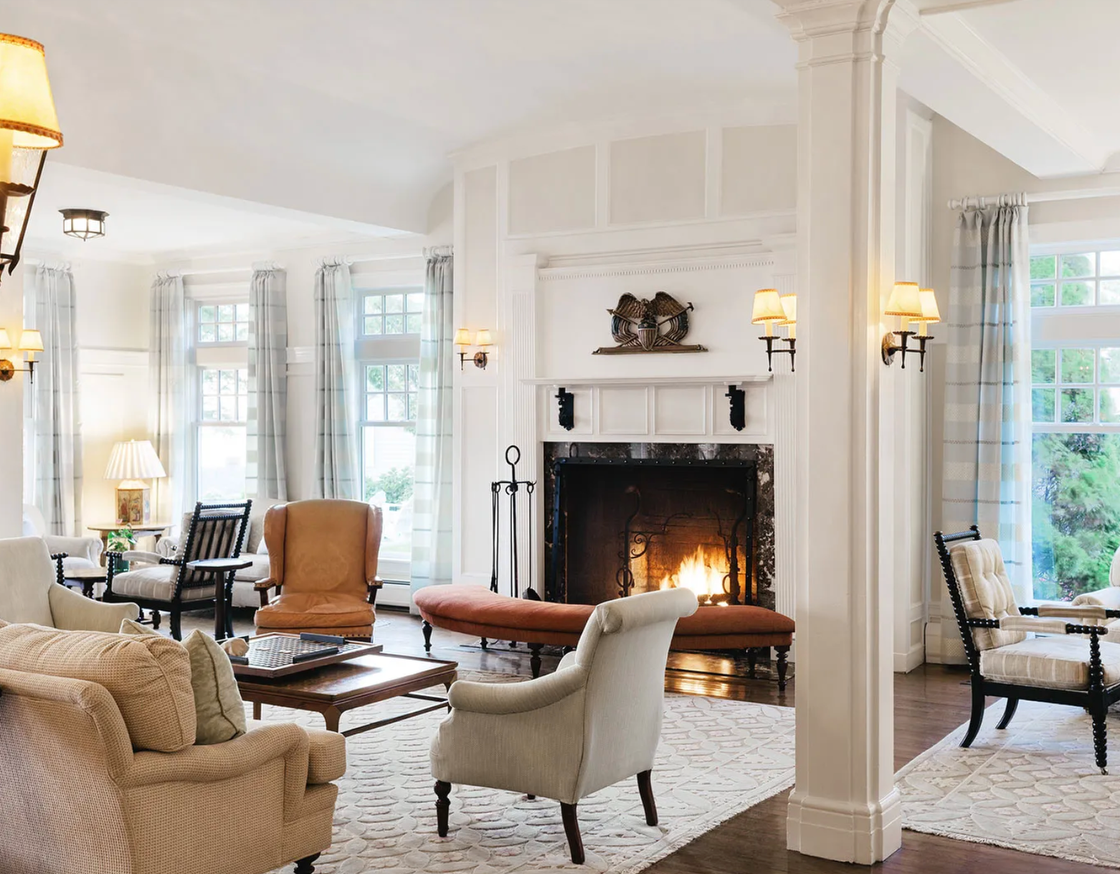 When you're ready for an adventure, there are options abound. The property has a fleet of boats for sportfishing, sailing, and day trips to Nantucket Island. No matter if you choose to relax or take up one of the activities, you'll be sure to feel the quintessential New England vibe. If you'd like to get off property, we adore Chatham Wine Bar and The Squire for cocktails before heading to dinner at Bluefin Sushi & Sake Bar.
Ocean View Presidential Suite
The Presidential Suite offers 1,120 sq. Ft. of living space and includes two separate bedrooms. The master bedroom features a king bed with a gas fireplace, and a marble master bath with a soaking tub. The second bedroom includes two queen size beds and a full bathroom. The living area features a dining table, wet bar and two gas fireplaces and sliding doors to a spacious deck with panoramic ocean views, perfect for entertaining.
4. Cliff House Maine, Cape Neddick, Maine
Conveniently located in Southern Maine between Ogunquit and York, an hour's drive north of Boston and a forty-minute drive from Portland, Cliff House is one of the most captivating oceanfront destinations of its kind after a landmark transformation. The property is set on the edge of the Atlantic on the rocky coast of Southern Maine with year-round activities, Cliff House offers panoramic ocean and coastal views from over 130 stylish rooms and suites. The hotel is also just a short distance from Rachel Carson National Wildlife Refuge, one of the country's largest.
Guests will have no trouble staying entertained and active at Cliff House Maine. In addition to having countless wonderful spots to simply relax and enjoy the remarkable ocean views, they also have many options for those who crave a more engaging experience. Amenities include indoor and outdoor swimming pools, a beautiful luxury spa, and access to the challenging course at the adjacent Cape Neddick Golf Club. Be sure to stop at Walkers is the ultimate stop for a bite or The Front Porch for cocktails.
Elsie Weare Suite
The Elsie Weare Suite sits on the top floor of Clifftop Building, offering unparalleled views of the dramatic Maine coastline. This 1,750-sq. ft. suite is named for a member of the prolific Weare family, who financed the construction of Cliff House and owned the property for four generations.
Combining down-home hospitality with modern elegance, the suite includes a kitchenette with sink, dishwasher, mini fridge, Keurig machine and dining room, a spacious living room, and private terraces perfect for stargazing and greeting the morning sun. The master bedroom features a king-sized bed, full bathroom and oversized soaking tub.
5. White Barn Inn, Auberge Resorts, Kennebunkport, Maine
Located in the beautiful coastal town of Kennebunkport, White Barn Inn has been a beloved local landmark for over 150 years, synonymous with warm New England hospitality, rustic charm, and uncompromising attention to detail. Just a 90 minutes' drive north of Boston, this inviting property is renowned as one of the country's most distinctive getaways. The 26-room inn is ideal for social distancing and offers guests supreme levels of quality, luxury and service. Beyond our favorite waterfront cottages, there is a swimming pool and convenient access to fine shopping and art galleries in the charming coastal town of Kennebunkport.
Ocean and Earth at Hidden Pond are your go-tos for a bite off of the property while we love Old Vines Wine Bar or 50 Local for a drink. But, for the best-kept secret, be sure to check out Little Barn for farm-t0-table delights. For a fine dining experience, The White Barn Restaurant has both a AAA Five Diamond and Forbes Five Star endorsement to satisfy in the ultimate foodie. Try the 9-course chef's tasting menu for a true culinary experience!
Friendship Cottage
The 1,000 sq. ft. Friendship Cottage combines proximity with exclusivity. It is a eight minutes walk from the Main House, but enjoys the privacy of being nestled along the banks of the Kennebunk River. Soaring ceilings, a large wood-burning fireplace, and landscaped patio embody Maine's cottage living.