A soldier who escaped the North Korean regime, fleeing across the demilitarised zone at the border with South Korea was "like a broken jar", after being shot repeatedly before he was dragged to safety, his doctor has said.
Lead surgeon Lee Cook-Jong who worked on defector Oh Chong Song has told the press his patient was suffering from catastrophic blood loss, and during surgery to remove bullets, the medical team encountered squirming white parasitic worms coming out of the man's digestive tract.
"His vital signs were so unstable, he was dying of low blood pressure, he was dying of shock," Dr Lee told CNN.
"He was like a broken jar. We couldn't put enough blood into him."
Mr Oh had been shot at least five times, with several bullets perforating his intestines. During the operation to repair the damaged intestinal track the doctors discovered the parasites.
"Everything was stained with blood, but the parasite was basically a really white colour and this thick, big, long and very, very hard, this kind of thing was getting out from his bowel system," Dr Lee said.
The medical team managed to remove all of the worms, some of which were over 10 inches long (27cm).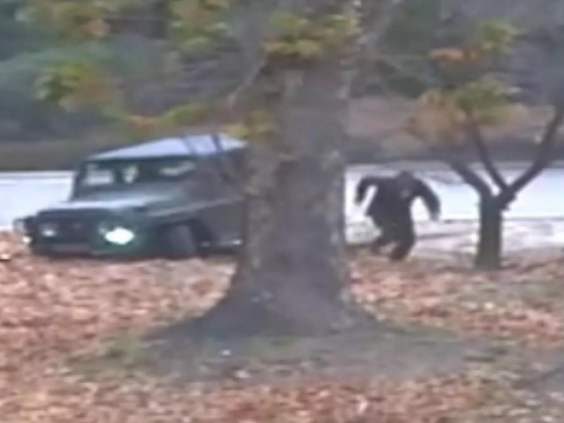 During the delicate procedure, Dr Lee said Mr Oh's vital signs were so unstable he thought the defector would die on the operating table.
"We [were] struggling with treatment as we found a large number of parasites in the soldier's stomach, invading and eating into the wounded areas," Dr Lee was previously quoted as saying by the Korea Biomedical Review.
"It's a miracle that he survived," the surgeon said.
During his 20-year career he had never previously come across intestinal worms, he told journalists.
The parasites are typically transmitted to the human digestive tract through poor hygiene and sanitation facilities and ingestion of faeces or contaminated water or soil.
According to the World Health Organisation the most prevalent infections are in the poorest and most deprived parts of the world where eggs present in human faeces then contaminate the soil in areas where sanitation facilities are lacking.
Children and those with weakened immune systems are usually most at risk. According to the WHO, Latest estimates indicate that more than 880 million children are in need of treatment for these parasites.
The greater the number of worms present in the gut, the worse the symptoms are. These include diarrhoea, abdominal pain, bloating, weight loss and fatigue.
Mr Oh is the first soldier to defect to South Korea across the heavily guarded demilitarised zone in 10 years.
An estimated 40 rounds were fired by soldiers as he ran for the South when the jeep he was fleeing in got stuck in a ditch.
He was left with bullet wounds to his abdomen, shoulders, elbow and knee.
North
Korean
defector
recovering
Seoul
'riddled
with
bullets'
full
parasitic
worms,
doctor
reveals