Lexus says concept will influence EV designs in the 2030s; dimensions hint at more immediate Jaguar I-Pace rival

The Lexus LF-30 Electrified concept car has been unveiled at the Tokyo motor show, giving an overtly design-led insight into how the brand's electric car future will look, as well as showcasing some of the autonomous and technical functions being developed for it to potentially go on sale with.

As such, the LF-30 is a concept car in the truest sense, with insiders saying that it is not intended to give specific clues to any single future Lexus model, but rather to explore the looks and technology that the cars could be sold with from around 2030. Among the more expressive design flourishes are the roof mounted doors and dramatically short rear. It is, however, based on a new electric platform that will underpin future Lexus and Toyota EVs from around 2022, which underlines its more immediate relevance.

"This concept is not directly linked to a specific product but symbolises the electrification vision of Lexus," said Takashi Watanabe, chief engineer for Lexus electrified projects. "Electric vehicles open up the potential for many changes, from dimensions and proportions to how they are engineered. We believe electrification will change the definition of luxury in future and this is our vision for that."

However, the LF-30 does have clear production potential. At 5090mm long it is 110mm shorter than a Range Rover, while at 1600mm high it is 235mm lower than a Range Rover and just 40mm higher than a Jaguar I-Pace. Thanks to clever packaging, it also has a wheelbase of 3200mm, is 1995mm wide and weighs 2400kg - all marginally exaggerated over on an I-Pace. It is fitted with a 110kW/h battery that can charge at 150kW and offer a range of around 310 miles - all in the ballpark of the figures for EVs already on sale made by rival manufacturers.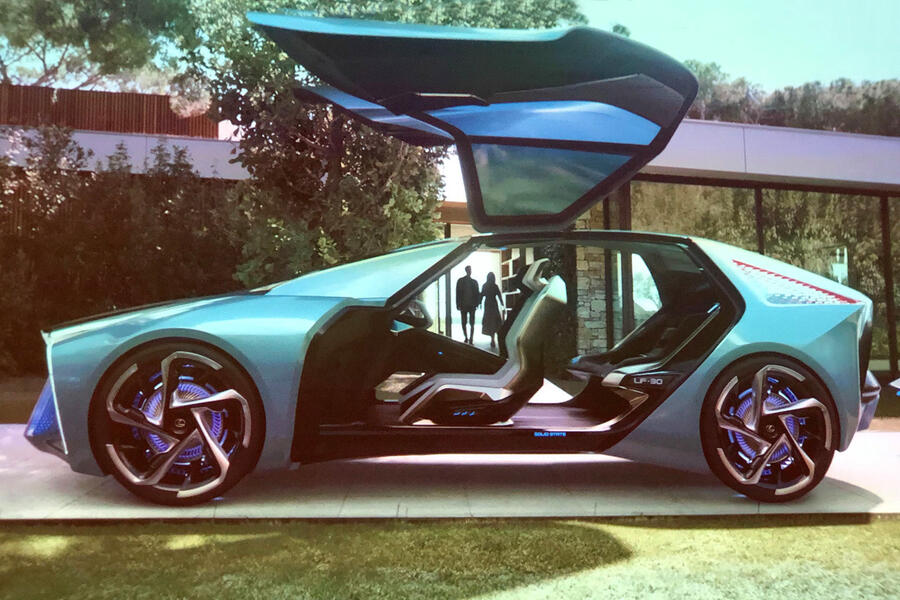 Placing a focus on the handling benefits possible with electric motors, Watanabe said the concept's use of individual in-wheel units was being explored for its production potential because of the superior handling characteristics that fully controlled, instant torque would give. "This is beyond the possibilities for cars as we have them today," he said, referring to the system as 'Advanced Posture Control' and comparing its potential agility to that of a leopard hunting prey. The LF-30 is said to offer 536bhp and 516lb ft of torque, hinting at its performance credentials. While its top speed is limited to 124mph, its 0-62mph time is a relatively pacey 3.8sec.
Watanabe also suggested that the absence of a charging port on the concept car was a nod to a desire to do away with charging by cables and instead develop wireless conduction charging capabilities. "It does not mean the technology will be ready for our first production car on this platform, but in the future we want to enhance the luxuriousness of charging," said Watanabe. "The idea of a contactless charging system without using cables is something we hope to accelerate development of."
Talking about the battery range and charging speed Watanabe added: "It is not just about fitting bigger batteries for a larger range, because then you just increase the charging time," said Terashi. "There is battery development to come - including solid state - but also the charging infrastructure is crucial. It is something Toyota and Lexus must look at and potentially invest in. We must develop more convenient batteries and services for customers, and we must also consider the life of the battery in the longer-term."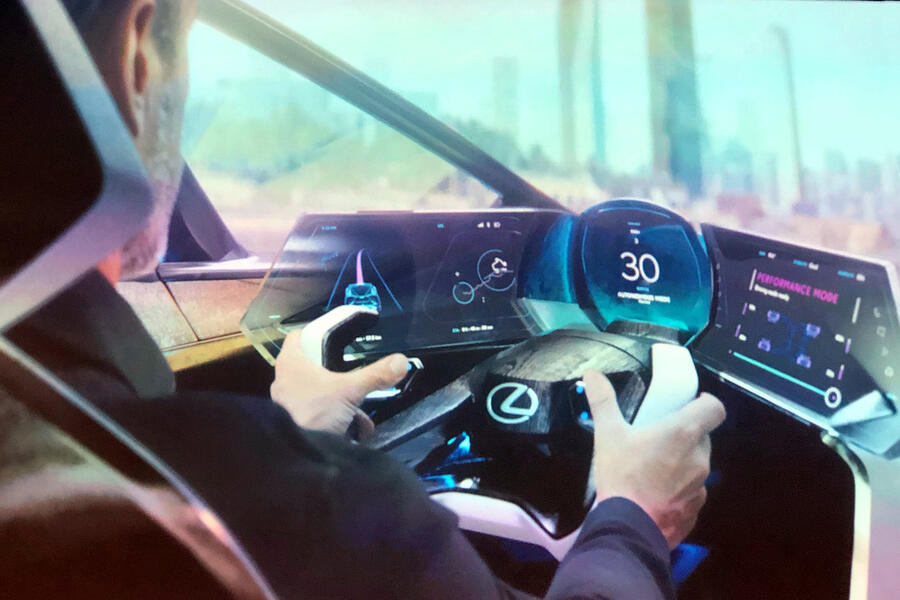 Inside, the LF-30 is also highly futuristic, with a steering wheel that retracts when it is in an autonomous mode and extends when the driver wishes to take control. There's little switchgear on display beyond buttons on the steering wheel which link to a heads-up display, so as not to distract the driver; functions are controlled by gestures instead. Meanwhile, glass roof-mounted screens are available for rear seat passengers to stay online and interact with the car using augmented reality. In one of Lexus's more futuristic flourishes, the LF-30 comes with a support drone which can load and unload luggage.
The driving position was highlighted by Watanabe for its driver-centric design, described using the Japanese word 'Tazuna', which equates to 'reins', as used to control a horse. "A horse and rider have a connection, a mutual appreciation," he said. "We are aiming for the same." A steer-by-wire system removes any mechanical connection between the steering and the wheels, too, allowing "more flexible control and a more precise steering feel" according to Watanabe. Infiniti has previously tried such a system in production to highly critical reviews.
Adding to the speculation that a sporty SUV-like vehicle would be the first Lexus to be made using the platform, Terashi hinted that the first car would be made with an eye on the US market. "Smaller electric vehicles make sense in urban areas, but they are not so popular to the tastes of the United States," he said. "The goal is to develop a Lexus - or many Lexus models - with a focus on the customer needs, and that means they will need to be large BEVs."
The LF-30's name comes from the combination of the standard formation used for Lexus concepts, with LF standing for Lexus Future, and the number 30, which has unspecified origins and which breaks from past conventions. Past Lexus concepts have typically used initials that demonstrate either the car to which they are pointing or the concept they are highlighting, such as FC for Fuel Cell. The use of a number potentially hints at plans to make larger and smaller electric vehicles in time.
Read more
New 2020 Toyota Yaris revealed with ground-up redesign​
Toyota unveils new Mirai Concept fuel cell vehicle​