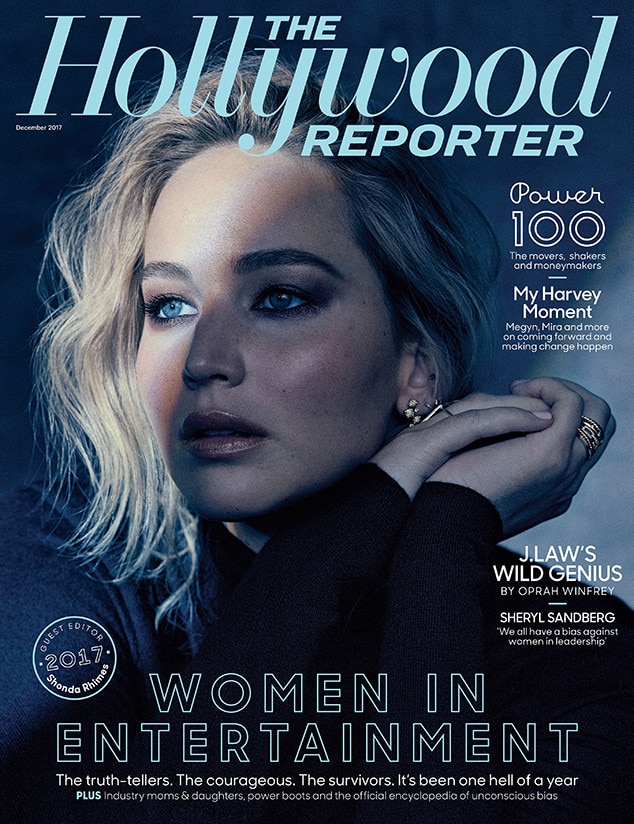 Miller Mobley/The Hollywood Reporter
Oprah Winfrey ended her eponymous talk show just before Jennifer Lawrence became a megastar. As part of its annual Power 100 issue, The Hollywood Reporter chose Lawrence as this year's Sherry Lansing Leadership Award recipient—and, to her delight, played matchmaker.
Though they'd met before, this marked the first time Winfrey had ever interviewed Lawrence. In September, Lawrence suffered the first misstep of her career when mother! received mixed reviews and underperformed at the box office. Winfrey could no doubt relate to how that feels, as she once confessed to eating "about 30 lbs. of macaroni and cheese" after Beloved flopped in the late '90s. Times were a little different then, as social media wasn't even around. "I read Twitter, and I was looking for bad mother! things. It was horrible. It was really bad," Lawrence recalled. "I loved this so much, and it just broke my heart, especially for [Darren Aronofsky], because he loved this person. And any time you're in a relationship, their pain is your pain."
"I didn't know that's what I was doing. I don't know how to look up these things," she said. "I started twittering 'mother!' 'cause I didn't know how else to get news, and that was really bad."
Lawrence told Winfrey she chooses her film roles based on "chemistry" alone. "It's like meeting a boyfriend. Red Sparrow was sexual, and I haven't done anything sexy or sexual," she said of the upcoming thriller. "I've been afraid of that since 2014, when I got my pictures hacked. I just thought, 'I'll never do that again. I'll never share that part of myself ever since it got shared against my will.' And then when I said yes to Red Sparrow, I felt I was taking something back."